The Whirley Crane
World War II Rosie the Riveter Homefront National Park
Challenge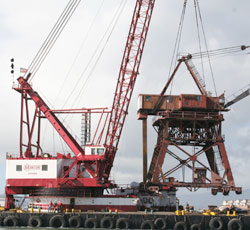 Raise a quarter of a million dollars, or its equivalent in services, to preserve the Whirley Crane, a historically significant feature of the Richmond Kaiser Shipyard. The project required moving this 220-ton behemoth onto a seismically-sound foundation.
Solution
Local architect and City Council member, Tom Butt, who contributed the architectural and engineering drawings, asked Mark Howe of MSH Group to donate the labor for seismic retrofitting of a foundation. Committed to community improvement, Mark agreed. He was not alone. Manson Construction donated crane services, and several other local businesses all helped with the heavy lifting.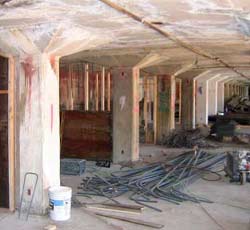 Foundation with reinforcing bar
Thanks to this collaboration, the National Park can more dramatically tell the story of Richmond's contribution to winning World War II.
Background
The City of Richmond is privileged to host a National Park on its shoreline. The Park's mission is to present Richmond's contribution to our nation's victory in World War II.
During the years of World War II the Richmond Kaiser shipyard produced 738 war ships— a record which still stands today. A special type of rail mounted crane that could rotate 360 degrees played a key role in the efficient production. Dozens of these "whirley cranes" were located around the shipyard. Over the years most of these massive structures were scrapped. Within recent years, 2 cranes remained in service. However, one of them failed a safety check and was headed for the scrap heap.
The Park Superintendent had another idea: preserve the crane as part of an exhibit that would include a Victory ship. Her vision, combined with the community spirit of many Richmond business people, are preserving a powerful reminder of World War II history.